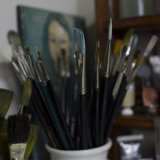 I'm an oil painter based in North Devon, England specialising in both figurative and abstract art and the interplay between them. My artwork tends to reflect my preoccupations with light, colour, and effortless movement. Several years ago, my mobility and sense of balance were severely reduced by a sudden illness. Hence my work is generally populated by animals, women and intangible landscapes that I hope, convey both the fluent motion and calm stillness that I aspire to.
Oil paint is the medium I love most. I find the smell of linseed oil has a calming effect. As the paint dries slowly, there is more time to manipulate it and so more scope to play with textures. I often use metal leaf and numerous layers of oil paint glazes to bounce light through the picture plane to create depth and luminosity. These are techniques that make the paintings interesting close up as well as from a distance; however it doesn't always come across in photographs.
Recently, I have started dabbling in watercolour inks and coloured pencils again. These mediums produce vibrant colours that are less rich but fresher and cleaner than oils. I am enjoying the contrast.
Most pictures are available to buy. Some are available in my shop which has the online gallery link below each artwork. Drop me a line via
this email link
or through the Contact Me section if you'd like any other information or have some feedback. Constructive comments are always most welcome!
Thanks,
Dawn x